Let's Talk about Sweatshops
Look we get it, it's not easy to find fair-trade clothing, it's not like you can just walk into Kmart, Big W, Target and know if the clothing is fair-trade and, to be honest, the last thing on a music producer, beat maker or music lover's mind would be, "Where was it made?" "Who made it?" "What conditions was it made under?" Truth is, most people don't know and never consider these questions when buying. However, the truth is out there, and we are going to help you discover it!
So, let's talk about sweatshops.
What are sweatshops?
Sweatshops are crowded workplaces. Conditions are poor; the treatment of the workers is known to be very harsh. Although sweatshops are illegal in Australia, that doesn't stop big companies from making their clothes overseas in places like India, Bangladesh, and China.
While sweatshops may be frowned upon, in some developing countries it is a primary source of income and a tough reality for many of those countries. Currently, there are no restrictions on Australian companies from doing this, many common companies as a result offer, cheap and affordable merchandise that give you the cheap prices you desire, and in return big profit margins for the companies to keep doing what they do.
However, we must ask ourselves if affordability and availability trump ethical considerations? While it might seem to be a win, win situation for you (cheaper prices) and the companies (bigger profit margins), it comes with a great cost for the workers.
There are a few things to think about regarding these workers. What are these workers being paid in these sweatshops, some great $0.35 an hour, while other sweatshops pay approximately $3 a day, is this morally right? Can one's heart be ok with wearing clothes made from people squished in a factory room, endlessly making shirts and pants for twelve plus hours? This cost isn't just financial, it can also be fatal.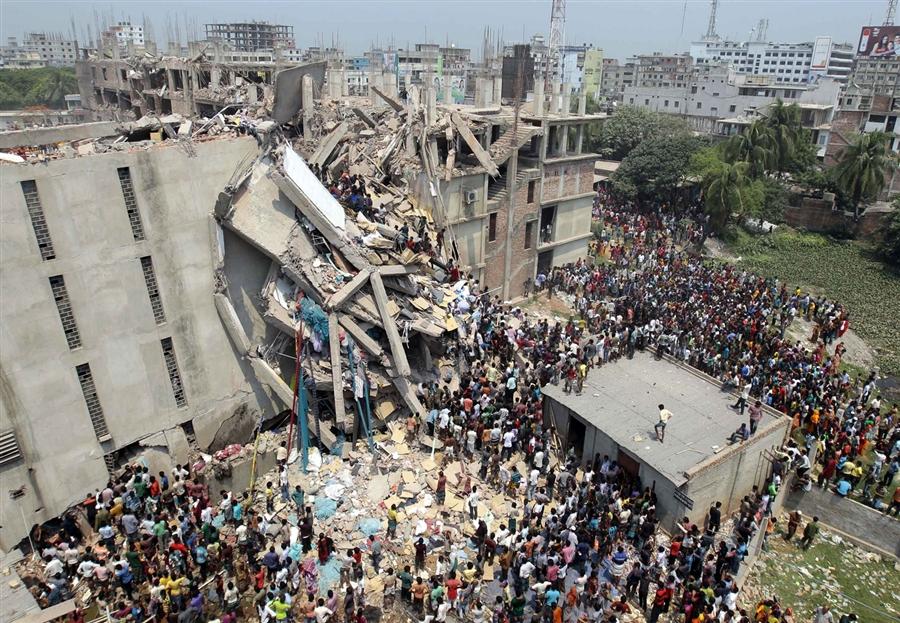 In 2013 there was a tragic building collapse in Rana Plaza that killed over 1,000 people and highlighted the predicament of the country's garment workers. Local operators said they were squeezed so badly by the retail giants they couldn't afford to ensure the safety of the factories. Look we're not rocket scientists but how much do you have to squeeze the already struggling workers just to gain a bigger profit margin?
In fact, big companies like, Kmart and Target are said to use only 1% of their profit to those workers. Think about that for a second you buy a $20 T-shirt from Kmart it cost them $0.20 to make a profit of 99%. So even when they discount it by 50%, they'll still be profiting, while those workers struggle to put food on the table. It is claimed that they have improved since this tragic event by signing an Ethical Sourcing Code since then. However it did come to light those big giants were selling $2-5 shirts in 2016 and customers knew something was not right once again demanding a boycott if they didn't improve wages for their factory workers, though the big companies insisted they were ethical. 
We know, what you're thinking, but they're just so cheap!
We know those cheap price labels are super tempting and for some, there may be no other choice, however, it's essential to remember that there is always a reason why they're so cheap to begin with.
It's horrible but I what can I do?
Many people probably feel, well yeah, it's horrible, "but what can I do?" And this is a great question.
According to Etiko, they recommend 'buy the best you can afford.' They also recommend the following:
"Buy fewer items but make them ethical. Look for Certified Organic, Fairtrade or locally produced clothing. This is the best way to ensure supply chain workers received a fair wage, had safe working conditions, and the environment was also treated respectfully. You can also research brands at Good On You or consult the annual Baptist World Aid Ethical Fashion Report."
Look we get it. It's not easy to monitor your clothes shopping, and some things are still near impossible to get under Fairtrade, even we still haven't found all the products we'd like to sell to be 100% Fairtrade, but our intention is to always strive to choose consciously and do our absolute best to support Fairtrade. We have Fairtrade T-shirts for now and our hoodies are made eco-friendly using organic cotton and recycled material. We'll chat about that in our next blog.
For now, do your best to follow the beat of your heart, you don't have to be perfect you can transition one beat at a time.